Background Information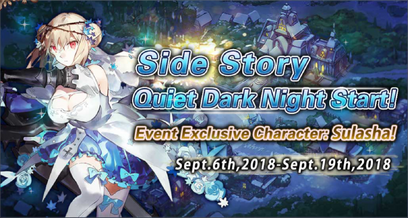 Receiving the quest sent by Angelina, Alven goes back to the Incense Wind Village and begins to investigate the disappearance of the villagers.
During the research, Alven meets the Demons, who take the human's Soul Essence as their food; and their killer: demon-hunters sisters.
The frigid and endless night in Incense Wind Village, starts now…
Exclusive Character
Event Intro
Pass the sequel level in Incense Wing Village, you will enjoy the SP of the Demon-hunter sisters.
Massive Battle Demon – Blood Corruption will also be unlocked.
Collect Semi-Demon's Emblem from the event as material for special summon and win event exclusive character – Sulasha and other rare materials and costumes.
Also, the individual challenge stage: Finale·Dawn is Nearest is waiting for you.
Enter Sequel story Interface
After complete the 1st chapter of the main story, adventurers can click the banner on the right bottom corner of the main page to enter sequel story.
Unlock Massive Battle
The whole sequel story is a complete chapter. After finishing all the stages, exclusive Massive Battle will be unlocked.
Adventurers can click the shadow of the Boss on map and start a Massive Battle. Complete all stages of the event, adventurers will receive exclusive characters and costumes as rewards.
Complete Achievements
By completing Proof of Battle (quests of the sequel story), adventurers can get extra rewards.
Draw in Restored Vault
Collect Semi-Demon's Emblem from sequel story and draw in Restored Vault to win event exclusive rewards. 
Rules of Restored Vault
Each draw will consume one "Semi-Demon's Emblem". The Restored Vault can be refreshed for 10 times in total.
Adventurers can check the stock of the rewards in the Restored Vault. When you almost get all the rewards of the Vault, you can choose to refresh the Vault thus the stock will be supplied again, and you can begin drawing in the refreshed Vault. Items with the golden frame are precious.
After refreshed 10 times, there will be no rewards left in Vault. So please be cautious and make sure you have earned the rewards you want before refreshing. 
Individual Challenge Stage
By completing all the stages, new individual challenge stage will be unlocked. Click the yellow shadow of the monster to enter. You will earn rare material as rewards by passing this stage.