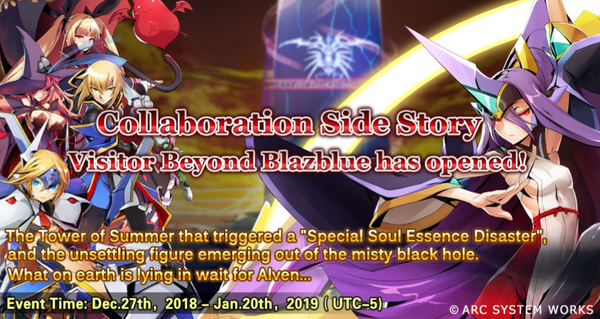 Background Information
In Tower of Summer among the Tower of Seasons, a 'History Restoration Plan' led to a Special Soul Essence Disaster and the appearance of several unidentified people from another world.
Can our protagonists land the decisive blow to stop all evil and sin?
Exclusive Character
Event Intro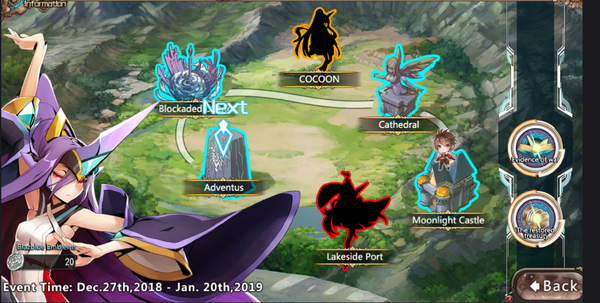 Pass the side story battles in [Boundary Phenomenon], you will enjoy the SP of the Visitors Beyond Blazblue.
Massive Battle [Challenge] will also be unlocked.
Collect [Blazblue Emblems] from the event as material for special summon and win event exclusive character – Izanami and other rare materials and costumes.
Enter Sequel story Interface
After completing the 1st chapter of the main story, adventurers can click the banner on the right bottom corner of the main page to enter sequel story.
Unlock Massive Battle
The whole sequel story is a complete chapter. After finishing all the stages, exclusive Massive Battles will be unlocked.
Adventurers can click the shadows of the Bosses on map and start a Massive Battle. Complete all stages of the event, adventurers will receive exclusive characters and costumes as rewards.
Complete Achievements
By completing Proof of Battle (quests of the sequel story), adventurers can get extra rewards.
Draw in Restored Treasury
Collect Blazblue Emblems from sequel story and draw in Restored Vault to win event exclusive rewards. 
Rules of Restored Treasury
Each draw will consume one "Blazblue Emblems". The Restored Treasury can be refreshed for 10 times in total.
Adventurers can check the stock of the rewards in the Restored Treasury. When you almost get all the rewards of the Treasury, you can choose to refresh the Treasury thus the stock will be supplied again, and you can begin drawing in the refreshed Treasury. Items with the golden frame are precious.
After refreshing 10 times, there will be no rewards left in Treasury. So please be cautious and make sure you have earned the rewards you want before refreshing. 
Individual Challenge Stage
By completing all the stages, new individual challenge stage will be unlocked. Click the yellow shadow of the monster to enter. You will earn rare material as rewards by passing this stage.